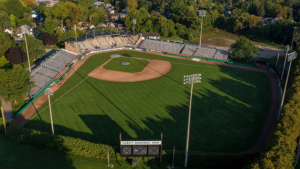 Induction announcement
Labatt Park – Friday, September 24, 2021 ..
Tom Dalby, Chair London Sports Hall of Fame committee:
Thank you …  As you've just heard, I'm here to represent the London Sports Hall of Fame. The Hall is physically located at Budweiser Gardens and virtually located at – londonsportshalloffame.com ..
Under normal circumstances, we would announce our inductees in the spring and hold an official induction event in the fall .. Covid-19 prevented that from happening in 2020 and created further uncertainties and restrictions this year .. After much discussion, our committee decided this year to limit our selection to only one .. Furthermore, we decided to make that selection .. UNIQUE.
If we had a band nearby it would be time for a loud and boisterous fanfare ..
OUR 2021 INDUCTEE TO THE LONDON SPORTS HALL OF FAME IS:
LABATT MEMORIAL PARK
This park … Labatt Park … has been London's Field of Dreams since 1877, known at that time as Tecumseh Park ..
In researching our 2021 inductee over the past few months, it was amazing to discover how many of our past inductees had a relationship with Labatt Park ..
The original Hall of Fame inductees, back in 2002, included London native and baseball great George (Mooney) Gibson ..  the late Jack Fairs .. and Dr. Paul Hauch, swim coach and voluntary physician for many Labatt Park events ..
Local baseball heroes over the years include: Tim Burgess, Frank Colman, Stan (Gabby) Anderson, Arden Eddie, Russ Evon, Ken Benjamin as well as an umpire – Jim Cressman .. and, some incredible teams – the 1948 London Majors, the 1877 London Tecumsehs, the Lou Ball Juniors of 1951-52, and the 1975 Majors
Who can forget high school football's golden years – Friday nights under the lights and the play of Don Getty, Barry Howson, as well as the ORFU champion London Lords in 1960 .. all Hall of Famers ..
Some great women's fastball teams also graced the Park including the play of the great Marion Clarke Knowles a Hall inductee in 2011 .. Fastball also saw great games and great teams including the 1970 Canadian champs – London TV Cable ..
Other names of note include: Dutch Decker, a noted PA announcer back in the day; Bill Farquarhson, PUC leader and former London Majors' owner; and extraordinary media personalities – Bob Gage, Bruce Huff, and Pete James ..
The Park has, over its long history, hosted a long list of events – both sporting and otherwise.
It truly is – London's Field of Dreams !!
And, a most deserving entrant into the London Sports Hall of Fame.
In closing, I want to thank the Majors for this opportunity and, in particular, – Friends of Labatt Park stalwarts – Steve Harding and Barry Wells and the London Majors Alumni led by Barry Boughner .
Thank you for keeping the legend alive and well!
-0-
The London Sports Hall of Fame
HONOUR ROLL
2021      Labatt Memorial Park
2020      No selections (Covid-19)
2019      Leo Loucks, Jane Peckham/Vaughan Peckham, Therese Quigley, Scott Wilson
2018      Craig Billington, Allan Coulter, Tom Partalas, Adam Purdy, 1971/72/73 Oakridge Secondary School Boy's Hockey Teams
2017      Jim Cressman, Dorinda (Dinnie) Greenway, Jeff Hackett, Jay MacNeil, David Patchell-Evans, 2016 London Knights
2016      *June-Marie Provost, Kylee Reade-White, *Harvey Baillie, Jeff Glass
2015      Ryan Thelwell, Brian Peaker, *Jackie Sheppard, Jude St. John, *Glynn Leyshon, Sammy Foxworthy, The 1975 London Majors
2014      *Frank Carson, Tim Tindale, Marcia King Goos, Frank Hawley, *Andy Gilpin, Ken Benjamin, Adam Kreek, 1951/52 London Lou Ball Juniors (baseball)
2013      *Ted Dilts, *Russ Evon, Barry Howson, Craig Simpson, Bob Vigars, Willie Weiler, 1980/81 Fanshawe basketball Falcons
2012      *Lady Lilian Beck, *Shawn Tompkins, Don Getty, Larry Haylor, Ian Sinclair, *Earl Ross, *Don Cline, Jason Tunks, 1991 Western basketball Mustangs
2011      Jason de Vos, Ken Buchan, Paul Duerden, Eric Lindros, Ronnie Jones, Dave Wall, *Dr. George Orton, *Marion Clarke Knowles, *Harvey Lennox, *Doug Jarrett, 1960 London Lords
2010      Christine Nesbitt, Tessa Virtue/Scott Moir, Tony Novotny, *Chester Pegg
2009      *Goldie Prodger, *Harry Geris, Patty Howard, *Bill Farquharson, Walt McKechnie, Pete James, 1877 London Tecumsehs (baseball)
2008      *Marjorie Black, Bruce Huff, *Stan (Gabby) Anderson, Casey Patton, 1957 Beck basketball Spartans
2007      *Jack Nash, *R.M. (Dutch) Decker, Brad Marsh, Arden Eddie, 1945 London Shamrocks (women's basketball)
2006      *Dr. Bob McFarlane, *Cliff McWhirter, Al Morrow, Catherine Bond Mills, 2005 London Knights
2005      *Frank Colman, Jim Thompson/*Bob Hayward, *Max Gauss, Fran Wigston Eberhard
2004      *Ray Getliffe, *Sue Hilton, Glen Weir, 1970 London TV Cable fastball team
2003      *Tom (Tim) Burgess, *Ed Ervasti, Peter A. Michienzie, Rob Ramage
2002      *C.R. Sandy Somerville, *George (Mooney) Gibson, *Dr. Paul Hauch, *John Metras, *Bob Gage, John Campbell Jr., Lesley Thompson-Willie, *Jack Fairs, Dr. Peter Fowler, 1948 London Majors
* deceased
CTV2 London report: https://drive.google.com/file/d/1XVOWlN8JIPyMxogiUi98Lh_KFNk4oqnA/view?usp=sharing
-0-